Rivals of Aether is an indie fighting game that is primarily inspired by the fighting series Super Smash Brothers. It is set in the vast world of Aether where many unique characters battle it out for supremacy of their homeland!
Rivals of Aether Wiki
Featured Article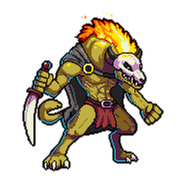 Forsburn
is a playable character who represents the element of smoke. Forsburn is the disgraced, eldest son of the Firelands' ruling family. After being accused of murdering his father, Forsburn was condemned by his brother and barely escaped the Capital with his life. Left wounded and nationless, Forsburn joined the smoke tribe, outsiders of the kingdom who had rejected flame and mastered the way of smoke (
more...
)
Get Involved
Welcome to The Rivals of Aether Wiki! Feel free to join us and contribute to this wiki. Everyone is free to create a new page or edit any existing one.
Questions about wiki editing should be directed towards the administrators.
Every edit is helpful, no matter how big or small. Simply reading through pages and fixing any typos/grammar mistakes is a big help. You don't even need to register to do so!
Have a look at the pages stubs and outdated pages for pages in need of cleanup and that could use your help.
Not sure where to start? Look here to see a list of ongoing tasks that need your help!
Don't like to write a lot? A picture says a thousand words, and uploading images is a great way to improve the site! Have a look at the image needed or gif needed categories for pages that could use your help with additional photos.
Rival of Aether News
17 Oct 2017
21 June 2017
      Patch 1.0.4 is officially released.
With the patch comes brand new, flashy profile icons for players to showoff online, and the beginning of Ranked Season 2.
13 June 2017
The Ori DLC, coming out later this summer is announced. The DLC will come with the tag team fighters Ori and Sein as well as The Spirit Tree stage.

22 May 2017
Patch 1.0.3 comes out with various bug fixes, stage updates, new skins and more.

28 March 2017
 Rivals of Aether has officially come out of Early Access, featuring a new Story Mode, Abyss Mode and Abyss Versus, four new maps, background music while navigating menus and much more.

Whose chapter in story mode did you enjoy the most?
</div>