Rivals of Aether is an indie platform fighter set in the vast world of Aether where many unique characters battle it out for supremacy of their homeland!
Rivals of Aether Wiki
Featured Article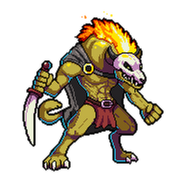 Forsburn
is a playable character who represents the element of smoke. Forsburn is the disgraced, eldest son of the Firelands' ruling family. After being accused of murdering his father, Forsburn was condemned by his brother and barely escaped the Capital with his life. Left wounded and nationless, Forsburn joined the smoke tribe, outsiders of the kingdom who had rejected flame and mastered the way of smoke (
more...
)
Get Involved
Welcome to The Rivals of Aether Wiki! Feel free to join us and contribute to this wiki. Everyone is free to create a new page or edit any existing one.
Questions about wiki editing should be directed towards the administrators.
Every edit is helpful, no matter how big or small. Simply reading through pages and fixing any typos/grammar mistakes is a big help. You don't even need to register to do so!
Have a look at the pages stubs and outdated pages for pages in need of cleanup and that could use your help.
Not sure where to start? Look here to see a list of ongoing tasks that need your help!
Don't like to write a lot? A picture says a thousand words, and uploading images is a great way to improve the site! Have a look at the image needed or gif needed categories for pages that could use your help with additional photos.
Featured Video
Check out the official Nintendo Switch launch trailer for Rivals of Aether
Definitive Edition
!
Rivals of Aether News
24 September 2020
The Rivals of Aether Definitive Edition is released on Steam and the Nintendo Switch.
15 September 2020
The Rivals of Aether Definitive Edition is confirmed to release on September 24, 2020.
12 August 2020
The Rivals Championship Series Season 5 is announced. Champion Skins for every character in the game will be available as prizes for participating or placing highly in RCS Season 5 tournaments.
15 July 2020
Patch 1.4.25 is released with various bug fixes and balance changes.